What are your favorite things to do during summer? Are there any special holidays or festivals where you live?
Midsummer in Denmark means warm weather, lots of great seasonal food, and burning witches over a bonfire (it's not what it sounds like!).
In this article, you'll learn about St. John's Eve traditions in Denmark, discover what this holiday used to look like, and pick up some useful summertime vocabulary.
Let's get started.
1. What is St. John's Eve in Denmark?
What we know as St. John's Eve today was originally a pagan holiday that started in Germany. The Germans of the time believed that there were witches that flew into Bloksbjerg in midsummer, during the evenings and nights. They would light bonfires to scare the witches and other
onde ånder
(evil spirits) away, and this turned into a tradition that later spread to Denmark and other neighboring countries.
Today, however, this holiday has
been Christianized
(as you may have guessed from the name!). The Danish St. John's Eve commemorates the birth of John the Baptist, who was born about six months before Jesus, though many of the "pagan" traditions and connotations remain in place.
For instance, there's still a focus on
magi
(magic) and evil spirits. The traditions associated with these aspects of the holiday are sometimes called St. John's Eve voodoo, but we'll talk about this soon.
2. When is St. John's Eve?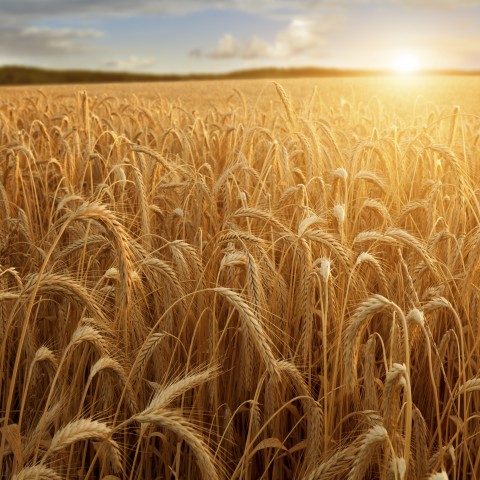 St. John's Eve takes place a few days after
Midsommer
(Midsummer) in Denmark, on June 23.
3. How is St. John's Eve Celebrated?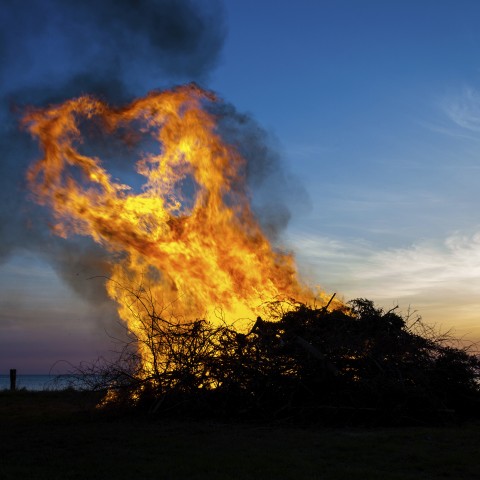 In medieval times, Danish midsummer traditions often involved the elders of the community gathering herbs that they would use to treat the ill throughout the year. In addition, people would hang garlands in the trees to catch the magic that came through.
Today, the most important midsummer tradition is the
sankthansbål
(St. John's Eve bonfire). A
heks
(witch) doll is placed atop the bonfire, and many people associate this with the witch returning to Bloksbjerg. Typically, there's a
båltale
(bonfire speech) given just before the burning, and you can be sure there'll be plenty of eating, drinking, and singing once the fire is lit!
The most popular of Danish midsummer songs is called, simply, "The Midsummer Song." This song was composed by
Holger Drachmann
originally, though many Danish people prefer the new 1980 version which has more rhythm. This version was created by the Danish band
Shu-bi-dua
. Of course, the older population often chooses to sing the traditional song instead.
A favorite activity for children is to bake dough on a stick right in the bonfire. The dough bakes into "twist bread," which is a favorite food for many Danish holidays.
A popular St. John's Eve celebration for girls and young women is to gather flowers to make a
blomsterkrans
(flower wreath) to wear on their head. However, this isn't quite as common in Denmark as it is in Sweden.
4. Maren Spliid
Today, only a doll made to look like a witch is burned, but centuries ago, Denmark performed real "witch" burnings. In the 1500s and 1600s, Denmark and neighboring countries frequently had witch hunts and burned supposed witches at stake.
The most famous of these victims is
Maren Spliid
, a Danish woman who was accused of being a witch.
She was tried twice
, tortured, and then burned to death after being forced to admit she was a witch.
Today, there's a memorial for Maren Spliid in Ribe.
5. Must-Know Vocabulary for St. John's Eve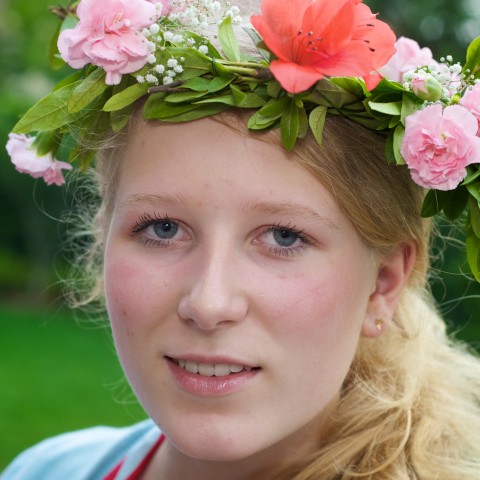 Ready to review some of the vocabulary words from this article? Here's a quick list!
Urtete — "Herb tea" [n. common]
Sankthansaften — "St. John's Eve" [n. common]
Sankthansbål — "St. John's bonfire" [n. neutral]
Båltale — "Bonfire speech" [n. common]
Afbrænding — "Burning" [n. common]
Midsommer — "Midsummer" [n. common]
Onde ånder — "Evil spirits"
Magi — "Magic" [n. common]
Solhverv — "Solstice" [n. neutral]
Kilde — "Spring" [n. common]
Blomsterkrans — "Flower wreath" [n. common]
Heks — "Witch" [n. Common]
To hear the pronunciation of each word, visit DanishClass101.com's
St. John's Eve vocabulary list
!
Final Thoughts
As you can see, Midsummer and St. John's Eve traditions carry over old pagan traditions while mixing them with newer, more modern values. We hope you enjoyed learning about this fun holiday with us, and that you took away some valuable information.
Do you celebrate Midsummer or St. John's Eve in your country? What are some popular summertime traditions there? Let us know in the comments!
To learn more about Danish culture and the language, see these free resources straight from our blog:
This only scratches the surface of everything DanishClass101.com has to offer the aspiring Danish-learner.
Create your free lifetime account today
to make the most of your study time, or upgrade to our Premium or Premium
PLUS
plans for access to exclusive content and lessons.
It's our goal to make your learning journey both effective and so much fun!
Stay safe out there, and happy learning!